International Undergraduate Program (IUP)

In 2003, the Faculty of Engineering of KU established its International Undergraduate Program (IUP) with the aim of producing professional engineers not only with technical knowledge and skills but also with English communication skills who could readily meet that growing need. To date, we have produced thousands of graduates since our establishment, while currently we have over 800 students enrolled in our programs.
Programs offered
At present, we offer six international undergraduate degree programs, namely:
Depending on the selected program, students are required the successful completion of 144 to 150 approved credits to graduate and earn their Bachelor's degree. This normally takes four years to complete. One credit in the Thai crediting system for higher education is equivalent to 1.5 ECTS credits in European countries or 3 credits in the England/Wales/Northern Ireland crediting system.
Tuition Fees
60,700 Baht per semester
All undergraduate programs are a 4-year duration course (two semesters per year / 16 weeks per semester)
First Semester: August – December
Second Semester: January – May
Admission Requirements
For foreign student (Full time):
You will need to present the following scores
– TOEFL (iBT) score of 61 or IELTS 5.5
– SAT Reasoning Test (SAT or SAT 1; Mathematics Section score of 600 and combined Critical Reading + Mathematics Section Score of 1,000)
For more Information about the IUP: https://iup.eng.ku.ac.th/
---
International Double Degree Program (IDDP)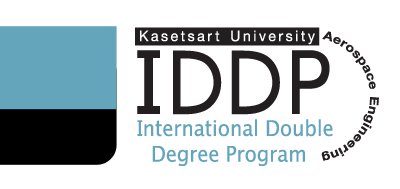 Established in 1999, the International Double Degree Program is jointly administered by Kasetsart University (KU) and RMIT University of Melbourne, Australia. The program aims to deliver graduates with qualification and skills in both Aerospace Engineering and Business Management. The IDDP has been developed specifically to meet the current and future demands of industry.
Degrees Offered
Each student needs to fulfill the requirements of KU and RMIT University in order to graduate from both institutes. Upon successful completion of the first 3 years at Kasetsart University, students transfer to enroll at RMIT University for either the 1.5 or 2.5 years options. The study program options are as follows:
Single Degree
4.5 year undergraduate single degree program in Aerospace Engineering* (B.Eng. from RMIT University and from KU)
Double Degree
5.5 year undergraduate double degree program in Aerospace Engineering* and Management (B.Eng. from RMIT University and from KU, Bachelor of Business from RMIT University)
Master Degree
5.5 year Bachelor and Master Degree in Aerospace Engineering* (B.Eng. from RMIT University and from KU, M.Eng from RMIT University)
Note: *Option for Mechanical or Automotive Engineering degree at RMIT
Tuition Fees
| | | |
| --- | --- | --- |
| KU | Tuition fee | THB 557,000 (Total 3 years) |
| RMIT | Tuition fee* | AUD 40,128/year |
| | Living Expenses** | AUD 20,000/year |
* Subject to change by RMIT University, with increases about 3% per year
**Approximately
For more Information of the IDDP Program: http://iddp.eng.ku.ac.th, http://ase.eng.ku.ac.th