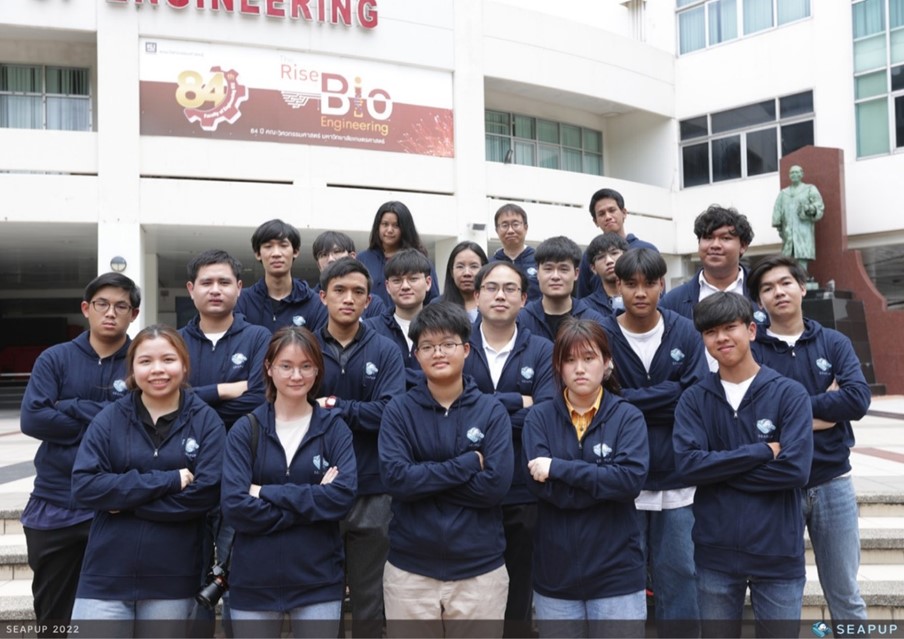 Our warm congratulations and heartfelt admiration to the engineering students of the SEAPUP team for their achievements in finishing in the global top ten at the ROBOSUB Underwater Automobile Competition 2022.
The SEAPUP team, a talented group of students of the Faculty of Engineering, brought pride to themselves and our university by designing and building an automatic underwater robot and performed extremely well, resulting in a top 10 finish by scoring 7th out of 39 teams from around the world. The International Unmanned Underwater Vehicle Competition, or RoboSub 2022, was held from July 27 to August 2, 2022 in College Park, Maryland, USA.
The twenty SEAPUP team members, consisting of students from various departments, jointly designed and developed these robots. They were advised and supervised by Asst. Prof. Dr. Yodyium Tipsuwan and Asst. Prof. Dr. Akrapong Patchararungruang, Lecturers from the Department of Computer Engineering; together with Asst. Prof. Dr. Teerasit Kasetkasem and Assoc. Prof. Dr. Peerayot Saenphot from the Department of Electrical Engineering, as well as Asst. Prof. Dr. Chinnapat Thipyopas from the Department of Aerospace Engineering.
The students of the SEAPUP team were the only team from Thailand who participated in this competition. In addition to gaining valuable experience in robot development and participating in this competition, the team also gained world-class competitive experience, involving troubleshooting and improvisation. The students will apply the skills and knowledge they gained from this competition to develop their research into robots and driverless vehicles.
To participate in the competition, the SEAPUP team received funding in the form of various equipment and tools for the development of the robot, as well as travelling expenses to participate in the competition, from Kasetsart University's Faculty of Engineering, the Engineering Alumni Association of Kasetsart University and Panicom AI Company Limited.
For their next event, SEAPUP will take part in the SAUVC 2022 competition held in Singapore from 23 until 26 September 2022.
Source: Eng KU news https://www.eng.ku.ac.th/news/?p=6876
Tags :