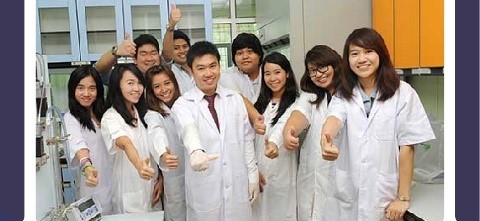 Research Topic: Development of Catalysts For CO2 Conversion to High Value-added Chemicals by Assoc. Prof. Thongthai Witoon, Department of Chemical Engineering
Research work creates new knowledge, environmentally-friendly technology and sustainable use of our planet's raw materials and resources, which creates a sustainable development in petrochemical and related industries in the country.
Commercial Research
Research was conducted into the conversion of CO2 – which is a main contributor towards global warming – to olefins, such as ethylene and propylene. These chemicals are an important primary product in the petrochemical industry. It is one of the important ways to reduce environmental problems, promote prudent use of raw materials, and stimulate technological progress and the long-term development of domestic industries in a sustainable way.
Use of the research results
The new catalyst for converting CO2 gas into olefins results in a CO2 conversion factor of 60% and yields 21% of olefins, the highest percentage reported. (Currently in the process of raising this from 21% to 30%). It is the key towards creating lasting economic value. This leads to commercial application by PTT Corporation as well as the design and development of a prototype microchannel membrane reactor.
Tags :