Invention: Atmospheric Cold Plasma for Agricultural and Industrial Applications
Project Leader: Asst. Prof. Dr.Siwapon Srisonphan, Department of Electrical Engineering
Origin of invention
Cool plasma technology is a clean technology consisting of elements such as ultraviolet (UV) light, gases, positively charged molecules, electrons, and electromagnetic fields that can react on the surface of a material and which are able to eliminate bacteria and mold with high efficiency. This technology can penetrate micron-sized gaps and is useful for a wide variety of applications, for example: in agriculture, the food industry, materials, and sterilization of medical devices, as well as in the cosmetics industry. However, the process of creating plasma in normal atmospheric conditions while the temperature of the plasma is close to room temperature, about 25° C – which is called the "cold plasma" – is still a huge challenge. This is because the cold plasma is generally produced only in small quantities and requires a vacuum system. Thus it is costly and cannot be used conveniently.
Therefore, this invention originated from basic research work along with innovative design of a cold plasma generator at normal atmospheric pressure to support practical use by farmers. In addition, the creation intended for industrial applications requires design flexibility to be easily scalable. There are no barriers to producing larger-sized units (scaling compatibility).
Features and characteristics
This invention is based on fundamental research that has been developed based on a nano-scale electric discharge phenomenon to produce a cold plasma effect at close to room temperature without the need for a vacuum system and with low energy consumption. In addition, it is capable of supporting a scale large enough to be suitable for actual use in agriculture and various industries with the ability to customize the size and area of ​​use at suitable cost. This is because it can be designed and adapted to suit various applications and can be applied complementary to the traditional tools.
The size of the prototype was specified to be less than 1 kilowatts, while the dimensions of the cold plasma generation per unit, the circuit per module should be at least 100-500 square centimeters for uncomplicated adaptation to large applications that require multiple modules. Moreover, it can be applied to the CNC system (CNC) and conveyor. This makes it possible to apply cold plasma technology to various industries such as material texture transformation, food processing, mold removal, bacteria and virus removal, material synthesis, and material drying.
The main structure and working principle of a hybrid cold plasma generator at normal atmospheric pressure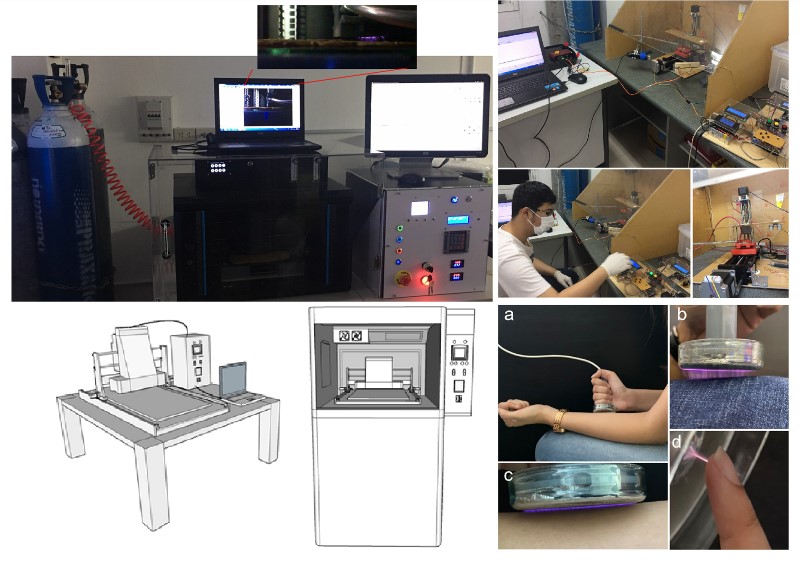 Hybrid cold plasma generators that were actually developed and tested in normal atmospheric conditions with manual and automatic controls. CNC model with a conveyor and a customised type for use in biological, medical and cosmetic purposes.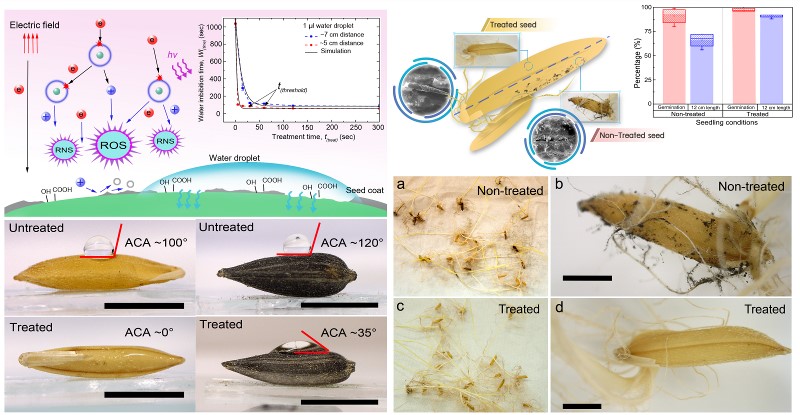 Benefits
The invention yields several benefits to the public sector, such as farmers, related institutions and a wide range of business sectors leading to commercial production, as follows.
• Innovative cold plasma technology that under normal weather conditions can be used in the rice production process and post-harvest management processes for maximum efficiency. This allows farmers to produce more rice in both yield per hectare and higher export quality and value.
• Benefits from reducing the volume and value of imported goods and technology from abroad.
• It is a green technology/ clean technology that is beneficial to human beings and the environment as well as capable of developing new opportunities and avenues for research and business.
• The presented cold plasma technology does not require additional chemicals. Neither does it leave any toxic residue in the work process for the operator and the environment.

Product Commercialization
Currently, the prototype is completed and ready to be tested, installed, and sold. Most importantly, product development based on this advancement in cold plasma technology can add value to the original product.
Tags :