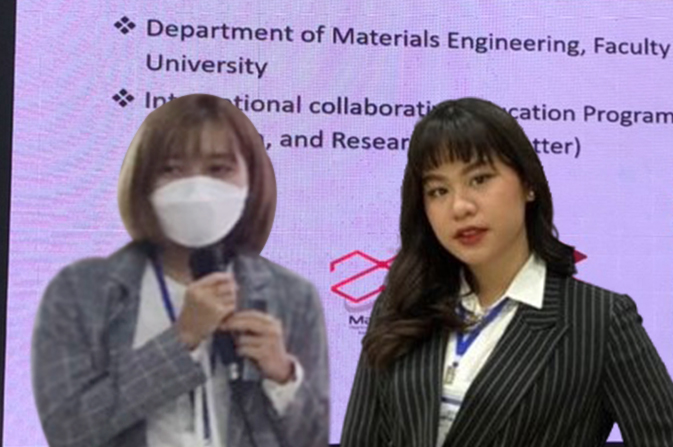 Two students of our Department of Materials Engineering received the Oral Presentation Award at the Joint International Conference on Applied Physics and Materials Applications & Applied Magnetism and Ferroelectrics (ICAPMA-JMAG-2021), which was organized by The American Ceramic Society IEEE, Thailand Section and IEEE Magnetics, Thailand Chapter, in conjunction with more than 20 agencies and educational institutions. The conference was held from 1 until 4 December 2021 at the Nong Nooch International Convention and Exhibition Center, Pattaya City, Chonburi Province.
The award-winning students are:
• Miss Nu Myat Thazin, master's degree student, supported by Assistant Professor Dr. Kasidit Phanomsuwan as her advisor, on the project "Influence of Pretreatment and Pre-Carbonization Conditions on the Porosity Development of Activated Carbon Fibers from Kapok for Supercapacitor Electrode Applications".
• Ms. Pudjira Manoonwong, master's degree student, with Associate Professor Sureerat Pholsilp as the main advisor and Assistant Professor Dr. Parinya Chakartnarodom as a joint advisor, on the project "Enhanced Antimicrobial and Mechanical Performances of Engineered Cementitious Composite by Incorporating Al-Zn Nanoparticles".
Source: https://www.eng.ku.ac.th/news/?p=6536, Department of Materials Engineering, Kasetsart University
Tags :