The Faculty of Engineering would like to congratulate the students of both the Faculty of Engineering
and the Faculty of Architecture. The 2en3arch team and Engitec team won the first prize and runner-up
prize in The Comprehensive Course in Japanese Business Innovation project, which was a presentation
competition based on the topic "Innovation for a Touchless Society", held on Friday, June 24, 2022, and
organized by the Japanese Chamber of Commerce – Bangkok. Mr.Tetsuya Horii, Chairman of the Human
Resources Development Committee of The Japanese Chamber of Commerce – Bangkok presented the
awards. The competition consisted of students from 3 institutions, namely Kasetsart University,
Chulalongkorn University and King Mongkut's University of Technology – Thonburi, with a total of 6
teams (2 teams per university) taking part.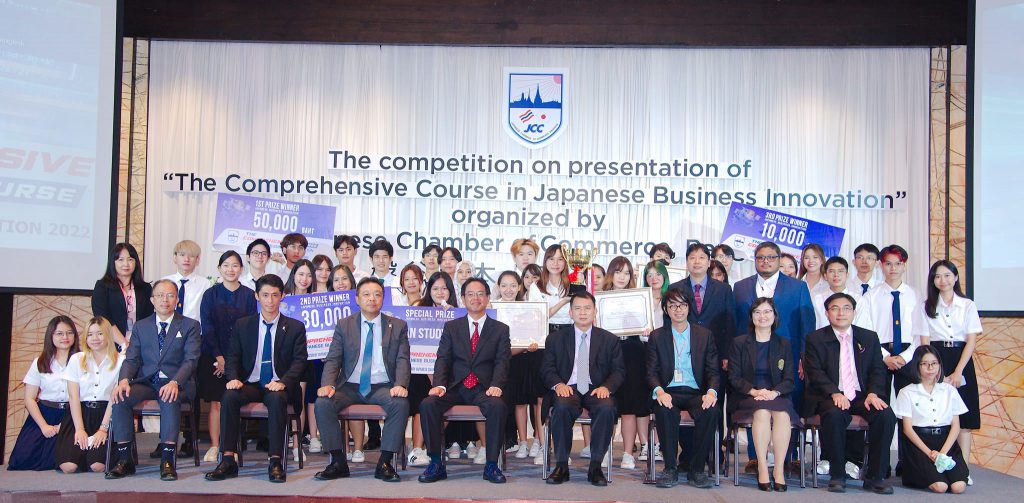 Students in the first-prize-winning 2en3arch team presented an innovative concept titled "NOT5FOR1",
which are glasses for the visually impaired. These glasses reduce exposure as a replacement for the eyes
of people who can't see well with the installation of an obstacle inspection system, as well as being able
to contact with volunteers to help the visually impaired remotely. For the first prize, the 2en3arch team
earned a trophy, 50,000 baht in cash, certificates and a study trip to Japan.

The Engitec students who received the runner-up award presented a creative concept called "Neko-
chan", an innovative and cute-looking cat doll to reduce the problem of touching faces using machine
learning facial detection technology. There is a flashing light and a warning sound when the hand
touches the face. The rationale behind this original concept is that nowadays people need to spend a lot
of time in front of a computer, whether working from home or studying online, which often causes them
to accidentally and repeatedly touch their faces while stressed. The research found that infections
usually come from touching the face, not from touching objects. Therefore it is important to find ways
to reduce face exposure. For that reason, positive psychology and distraction were applied to modify
behaviors to reduce face touching and to create a device that compensates for face-touching behavior
instead. Engitec students received a cash prize of 30,000 baht as well as a certificate.
Tags :